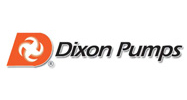 Since 1985, Dixon Pumps Inc. (previously known as Dismas Pumps Inc) has led the way in pump transfer technology. From our early beginnings in 1985 as a lone operation in Montana with only a single hand pump, to our revolutionary Blade Master design introduced in 2003, we have built a worldwide reputation on quality, durability, dependability and reliability and now provide an International network of sales, service, and support through our valuable distributors and OEM companies.
Today, Dixon Pumps Inc. is recognized world wide as providing some of the strongest and most powerful positive-displacement pumps. We have moved from operating as an oil transfer pump to servicing markets such as fuel and refueling, bio-diesel, aviation, mining, marine and chemical industries to name a few.
B&K Supply offers a variety of Dixon Pumps for many applications:
Explosion & non-explosion proof motor
12 Volt, 24 Volt, 110 Volt, 220 Volt & 460 Volt transfer pumps
Portable & stationary versions
Gas / Diesel powered pump packages
Pressures up to 100 PSI
Flow rates up to 100 GPM
Operates dry without damage to pumps
Uses an integral gear reducer, no couplings or mis-alignment concerns
Flow meters and special packages available
Dixon Pumps M-1560-N Series Brochure
Dixon Pumps 1560 Stationary Series Brochure
Dixon Pumps 1560 Honda Mobile Brochure
Dixon Pumps 2020 Series Brochure
Dixon Pumps 202 Honda Stationary Series Brochure
For assistance in selecting the right Dixon product for your needs, please use our online contact form or call us at 303-427-2771.