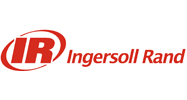 Three letters. Eighty years. One goal: to be a world-class manufacturer of positive displacement pumps and systems. With an 80-year legacy of premier product performance and service excellence, ARO provides fluid handling equipment for customers and industries worldwide including chemical, manufacturing, energy, pharmaceutical, mining and more.  Offering air-operated diaphragm pumps, piston pumps & packages, filters, regulators, & lubricators (FRL's), lubrication equipment, and pneumatic valves & cylinders, ARO has the right product to meet your specfic needs.
B&K Supply offers a variety of Ingersoll Rand Pumps for many applications:
Air operated oil transfer pumps
Air operated grease pumps
Air operated waste oil pumps
Manually operated oil & grease pumps
Ingersoll-Rand Lubrication Equipment Brochure
For assistance in selecting the right Ingersoll Rand product for your needs, please use our online contact form or call us at 303-427-2771.